AUCian Yousef Berbar's STEM Network Grows
AUCian Yousef Berbar's STEM Network Grows
When high schooler Rahma Swidan asked for advice on Facebook about entering one of Egypt's new science, technology, engineering and math (STEM) high schools, senior construction engineering major Yousef Berbar responded.
That interaction has resulted in a growing network of students learning to navigate the ins and outs of early professional life together.
With Berbar's help, Swidan, now in 11th grade, was accepted to Summer@AUC, a pre-college summer program for high school students interested in engineering at AUC, and a University of Buffalo summer program.
After realizing how beneficial this was for other students, Berbar created a first-of-its-kind STEM Network and made Swidan its vice president. One year later, the network now consists of a team of 30 students using Zoom and WhatsApp to help about 450 high schoolers navigate majors, study for ACTs and other tests, tweak their resumes and develop soft skills like communication and leadership.
"We're kind of snowballing," Berbar said.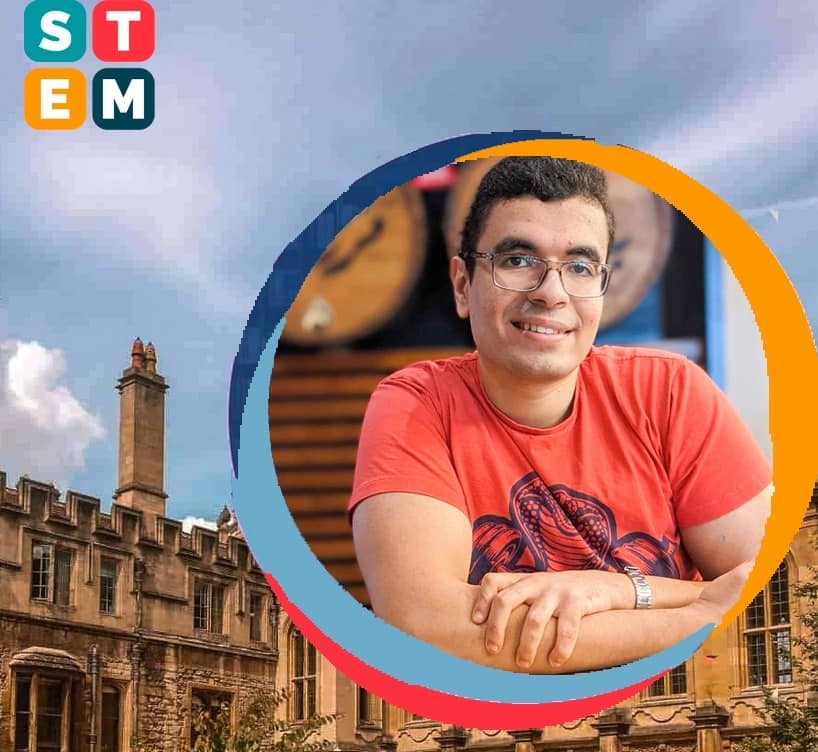 Berbar is an Al Ghurair STEM scholar at AUC, a prestigious award for high-achieving students in the field. He said his concentration within the engineering program, in project management, has improved his ability to facilitate the work of large groups — skills he developed further by taking a course through the AUC Leadership Institute. Berbar also works at AUC's Career Center as a senior peer leader. He said both of these experiences have influenced his efforts, particularly when it comes to management.
In fact, Berbar is inspired by Abdulla Ahmad Al Ghurair himself, the Emirati philanthropist who funded the Al Ghurair STEM scholarship at AUC in 2015 with a $1.1 billion investment.
"In my opinion, this was a great noble act, and it touched many lives because let's trace it — is [Al Ghurair] helping this one student entering the University? No. This one student has a family and this one student will have a future family. He's touching a lot of people's lives," Berbar said. "That's why I felt that I should be doing the same."
The network is open to anyone, but specifically targets students at newly specialized secondary schools in Egypt.
Magnet high schools focused on STEM started cropping up in the country around 2011, the result of a partnership between the U.S. Agency for International Development and Egypt's Ministry of Education and Technical Education. Berbar, who attended the STEM October High School for Boys, was among the first students to attend one of these STEM schools. In the following years, USAID and the ministry opened 18 more STEM schools across the country, serving about 5,000 students, according to USAID's website.
"I noticed that they were starting to expand the number of STEM schools around the country, but this new caliber of students was not really aware of all the opportunities that they could pursue and how they could manage their careers and resumes," Berbar said.
Berbar has a history of using his experience to benefit others. As a junior in high school, he created a computer science and Google club to help freshmen with their capstone projects.
He said most students in the network were initially interested in learning about the application process for American and international schools. He was able to provide some insight based on his experience applying and being accepted to international universities before being awarded the Al Ghurair STEM Scholarship.
Zoom sessions through the network are free and range from resume critiquing to help writing personal statements for college applications. They are offered once weekly or based on demand.
"The STEM Network is the best thing that's happened to me," Swidan said. "I got a lot of experience and skills from it, and was especially happy when students were accepted to universities because of us."
It's too soon to tell how many students in the STEM Network will receive college acceptances, but Berbar said many of them have already been accepted to summer-abroad programs.
"I am very fulfilled and happy that I am actually driving change in the community," Berbar said. "I'm adding value and actually touching their lives."
Berbar, who is graduating in the spring, plans to work in business development, "to create opportunities for others."
"There is so much potential in youth that we should be investing in," he said. "I believe that AUC is one of those places that will always be driving impact in the community. And by community, I mean the whole country and beyond."