Electronics and Communications Engineering - BSc
Electronics and Communications Engineering - BSc
Program Overview
Electronics and communications engineering is among the most vibrant fields of engineering in terms of new science, innovation, jobs and economic impact. AUC's electronics and communications engineering program covers electromagnetism, circuits, electronics, digital design, communications and more. It is the first four-and-a-half-year (147-credit) program of its kind in Egypt and is accredited by the ABET. Inside the University's state-of-the-art laboratories, students engage in individual and group projects, guided by world-class faculty members with extensive global experience across the industrial and academic sectors.
Students of the Program
The program is suitable for students interested in dynamic industries, including aerospace, automotive, construction, consumer goods, defense, desalination, electronics, oil and gas, pharmaceuticals, power generation, satellite communication stations, and telecommunications.
Practical Experience
Students are required to participate in an industry internship to get introduced to the job market and form connections with potential employers. Internship opportunities are available with industry partners such as Alcatel, Cisco, Electronics Research Institute, Elsewedy Electric, Etisalat, Halliburton, Intel, Mars, Orange, Siemens, Valeo, and Vodafone, among others. Students also participate in a variety of extracurricular activities, such as field trips and local and international competitions.
Career Paths
Graduates of the program have gone on to work for industry leaders as:
Communications engineers

Electronics and communications research engineers

Electronics circuit design engineers

Field test engineers

Network planning engineers

Service engineers

Signal processing engineers

Systems engineers

Technical directors
Alumni of the Program
The program's many alumni include Elham Fadaly '13, laser integration engineer at Apple. Fadaly is the winner of numerous accolades, including the 2021 Science Breakthroughs of the Year Award, the Physics World 2020 Breakthrough of the Year, and the 2020 Nanotechnology Young Researcher Award.
Top Employers
Our alumni have worked for top local and multinational employers, including Siemens, IBM, Ericsson, Dell Technologies, Cisco Systems, Alcatel, Valeo, Etisalat, Huawei, Vodafone, Microsoft, Orange, ITWorx, Intel, Halliburton, Booz Allen Hamilton, and P&G. Program alumni have also pursued graduate degrees at top global universities, such as Stanford and Harvard.
Program Objectives
The electronics and communications engineering program at AUC graduates an electronics and communications engineer who, within a few years of graduation, fulfill societal needs, with consideration for ethical and environmental issues and an appreciation of lifelong learning, in one or more of the following roles:
A professional team member in a multidisciplinary environment, local or global

A leader in electronics and communications engineering through notable achievements, promotion, and professional development

A successful member of an advanced academic or research organization

A successful entrepreneur
Learning Outcomes
Completing the requirements of the Electronics and Communications Engineering Program at AUC, our students will develop
An ability to identify, formulate, and solve complex engineering problems by applying principles of engineering, science, and mathematics

An ability to apply engineering design to produce solutions that meet specified needs with consideration of public health, safety, and welfare, as well as global, cultural, social, environmental, and economic factors

An ability to communicate effectively with a range of audiences

An ability to recognize ethical and professional responsibilities in engineering situations and make informed judgments, which must consider the impact of engineering solutions in global, economic, environmental, and societal contexts

An ability to function effectively on a team whose members together provide leadership, create a collaborative and inclusive environment, establish goals, plan tasks, and meet objectives

An ability to develop and conduct appropriate experimentation, analyze and interpret data, and use engineering judgment to draw conclusions

An ability to acquire and apply new knowledge as needed, using appropriate learning strategies
Professor and chair, Yehea Ismail, gives a short brief about AUC's electronics and communications engineering undergraduate program
Accreditation
The Electronics and Communications Engineering program is accredited by the Engineering Accreditation Commission of ABET. Read more about ABET.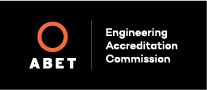 Watch Videos on the Electronics and Communications Engineering Program
Loading... Check Admission Requirements
Enrollment Trends
| | 2013-2014 | 2014-2015 | 2015-2016 | 2016-2017 | 2017-2018 | 2018-2019 | 2019-2020 |
| --- | --- | --- | --- | --- | --- | --- | --- |
| Full Time Students | 163 | 161 | 198 | 177 | 166 | 170 | 166 |
| Part Time Students | 12 | 19 | 19 | 15 | 15 | 14 | 19 |
| Student FTE | 170.58 | 172.75 | 209.58 | 186.50 | 175.00 | 178.67 | 177.29 |
| Graduated Students | 31 | 19 | 23 | 39 | 24 | 33 | 38 |