Computer Science - BSc
Computer Science - BSc
Program Overview
The computer science and engineering program at AUC provides students with modern education, emphasizing the creative application of scientific knowledge in the analysis, design, and implementation of computer software and hardware systems. The ABET-accredited program develops students' skills in theory and practice and raises their awareness of the social implications of applying their work. Computing ethics and professionalism are important ingredients of the program and are emphasized at all levels.
Students of the Program
The program is suitable for students interested in innovation based on computing-related problem-solving.
Practical Experience
Internship opportunities through AUC's Career Center are available for students at leading establishments, including Microsoft, IBM, P&G, Dell EMC, SAP, ITWorx, Mentor Graphics, and AUC Technology Solutions, among others.
Career Paths
Graduates of the program have gone on to work for industry leaders as:
Software engineers

Hardware engineers

Developers

Web developers

Systems managers

Database administrators

System analysts
Alumni of the Program
The program's many alumni include Mina Mikhail '08, '10, engineering manager at Google; Mohamed El-Geish '07, senior manager, head of Alexa Speaker Recognition at Amazon; Mohamed el Tantawy '06, '09, founder and CTO of Agolo, a New York-based startup that developed an AI program for summarizing various types of content; and Mirna Aref '02, '07, Microsoft Egypt's country manager and the first woman in the Middle East to head the company.
Top Employers
Our alumni have worked for top tech employers, including:
Google

Microsoft

Facebook

IBM

P&G

Dell EMC

SAP

ITWorx

Siemens
Department chair and professor, Sherif Aly, gives a short brief about AUC's computer science and engineering undergraduate programs
Program Educational Objectives
Graduates of the computer science program at AUC are able, within a few years of graduation, to fulfill societal needs, with consideration to ethical and environmental issues, in one or more of the following roles:
1- a professional team member in a multidisciplinary environment, whether on the local or global levels
2- a distinguished member of the computing field
3- a successful member of an advanced academic or research organization.
4- a successful entrepreneur
ABET Student Outcomes
The program enables students to achieve the following outcomes, by the time of graduation:
Analyze a complex computing problem and apply principles of computing and other relevant disciplines to identify solutions

Design, implement and evaluate a computing-based solution to meet a given set of computing requirements in the context of the program's discipline

Communicate effectively in a variety of professional contexts

Recognize professional responsibilities and make informed judgments in computing practice based on legal and ethical principles

Function effectively as a member or leader of a team engaged in activities appropriate to the program's discipline

Apply computer science theory and software development fundamentals to produce computing-based solutions
Accreditation
The Computer Science program is accredited by the Computing Accreditation Commission of ABET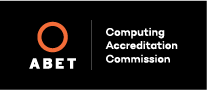 ENROLLMENT TRENDS
| | | | | | | |
| --- | --- | --- | --- | --- | --- | --- |
| | 2014-2015 | 2015-2016 | 2016-2017 | 2017-2018 | 2018-2019 | 2019-2020 |
| Full-Time Students * | 83 | 82 | 75 | 87 | 121 | 140 |
| Part-Time Students * | 0 | 1 | 3 | 3 | 3 | 5 |
| Student FTE | 83.00 | 82.67 | 77.00 | 89.00 | 123.33 | 143.08 |
| Graduates ** | 18 | 14 | 23 | 20 | 13 | 11 |
* Fall term enrollment figures
** Undergraduate degrees conferred during the academic year until Fall 2019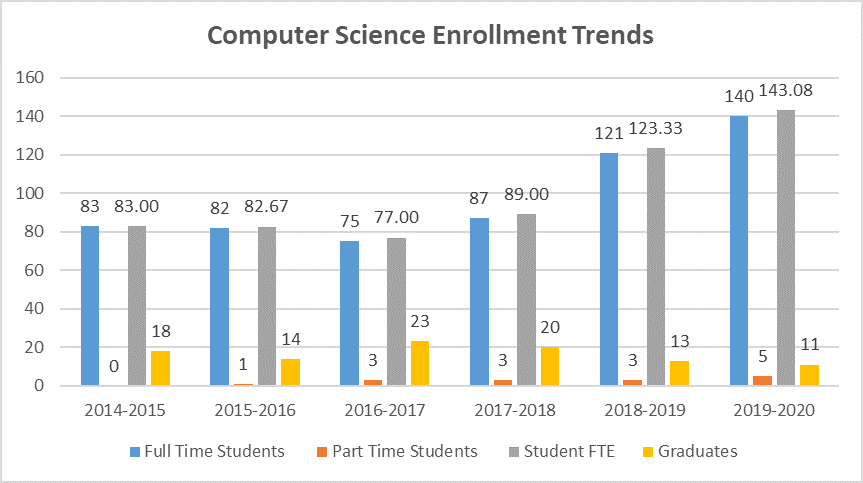 N.B. Enrollment figures include secondary major students
Watch More Videos on Computer Science and Engineering
Loading... Check Admission Requirements