Computer Engineering - BSc
Computer Engineering - BSc
Program Overview
The Computer Engineering program is the discipline that embodies the science and technology of design, construction, implementation, and maintenance of software and hardware components of modern computing systems and computer-controlled equipment. It is solidly grounded in the theories and principles of computing, mathematics, science, and engineering and it applies these theories and principles to solve technical problems through the design of computing hardware, software, networks, and processes. Computer engineers are involved in the design of computer-based systems which include (in addition to systems for portable, desktop, and client/server environments and communications devices) distributed computing environments and embedded systems just to name a few. The convergence of several established technologies (such as television, telecommunications, and networking infrastructures) results in the creation of massive challenges and opportunities for computer engineers.
Practical Expereience
Graduates of the computer engineering program at AUC, fulfill societal needs, with consideration to ethical and environmental issues, in one or more of the following industry leader roles:
Software engineers

Hardware engineers

Developers

Web developers

Systems managers

Database administrators

System analysts
Top Employers
Our alumni have worked for top tech employers, including:
Google
Microsoft
Facebook
IBM
P&G

Dell EMC
SAP
ITWorx
Siemens
Department chair and professor, Sherif Aly, gives a short brief about AUC's computer science and engineering undergraduate programs
Program Educational Objectives
The computer engineering program at AUC graduates a computer engineer who, within few years of graduation, fulfills societal needs, with consideration to ethical and environmental issues, in one or more of the following roles:
1- A professional team member in a multidisciplinary environment, local or global.
2- A distinguished member of the computer engineering field through promotion, or professional development.
3- A successful member of an advanced academic or research organization.
4- A successful entrepreneur.
ABET Student Outcomes
The program enables students to achieve the following outcomes, by the time of graduation:
Analyze a complex computing problem and apply principles of computing and other relevant disciplines to identify solutions

Design, implement and evaluate a computing-based solution to meet a given set of computing requirements in the context of the program's discipline

Communicate effectively in a variety of professional contexts

Recognize professional responsibilities and make informed judgments in computing practice based on legal and ethical principles

Function effectively as a member or leader of a team engaged in activities appropriate to the program's discipline

Apply computer science theory and software development fundamentals to produce computing-based solutions
Accreditation
The Computer Science program is accredited by the Computing Accreditation Commission of ABET and by the Engineering Accreditation Commission of ABET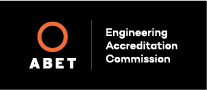 ENROLLMENT TRENDS
| | | | | | | |
| --- | --- | --- | --- | --- | --- | --- |
| | 2014-2015 | 2015-2016 | 2016-2017 | 2017-2018 | 2018-2019 | 2019-2020 |
| Full-Time Students * | 142 | 151 | 191 | 236 | 274 | 298 |
| Part-Time Students * | 4 | 4 | 2 | 3 | 7 | 1 |
| Student FTE | 144.67 | 153.83 | 192.17 | 237.75 | 279.75 | 298.75 |
| Graduates ** | 12 | 17 | 24 | 25 | 39 | 9 |
* Fall term enrollment figures
** Undergraduate degrees conferred during the academic year until Fall 2019
N.B. Enrolment figures include secondary major students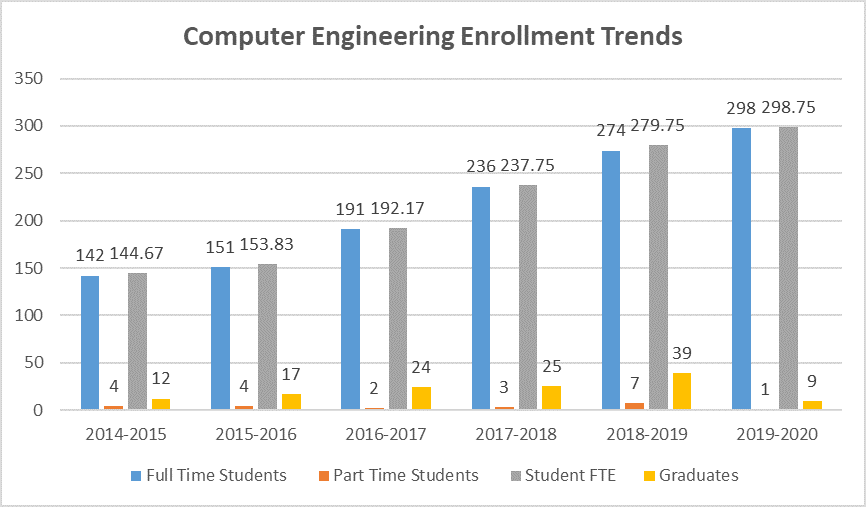 Watch Videos about Computer Science and Engineering
Loading... Check Admission Requirements