Nataly Naser Al Deen
Nataly Naser Al Deen
Biology department alumnus, Nataly Naser AL Deen, graduated from The American University in Cairo in June 2013 with a Bachelor of Science in Biology (following the pre-medical track) and a minor in chemistry and in psychology as a MEPI-TL (Middle East Partnership Initiative-Tomorrow's Leaders) scholar. She conducted her senior research project at Theodor Bilharz Research Institute, TBRI, on hepatocellular carcinoma. Her undergraduate senior thesis title presented "YKL-40, a Novel Non-Invasive Biomarker as a Predictive and Prognostic Marker for HCV-Induced HCC" under the supervision of Dr. Suher Zada at AUC.
After she graduated from AUC, she was awarded the prestigious Fulbright Foreign Student scholarship in 2014 where she attended Georgetown University Medical Center in Washington D.C. and pursued my master's degree in Tumor Biology at the Department of Oncology. She became part of Dr. Rebecca B. Riggings' team at the Lombardi Cancer Center. Our work focused on the therapeutic targeting of the ETS family with the small molecule YK-4-279 as an effective strategy for the treatment of Triple Negative Breast Cancer, TNBC. Her part in this joint research project was to test whether YK-4-279 is more efficacious in the absence of functional p53 in TNBC.
After she graduated from Georgetown in 2015, she started pursuing her PhD studies at the American University of Beirut (AUB) in Cell and Molecular Biology with a focus on early breast cancer at the Biology Department. I joined Dr. Rabih Talhouk's team, in collaboration with Dr. Rihab Nasr's team at AUB, who are both members of International Breast Cancer and Nutrition, IBCN with a collaborator at Purdue University Dr. Sophie Lelièvre (one of IBCN's leaders).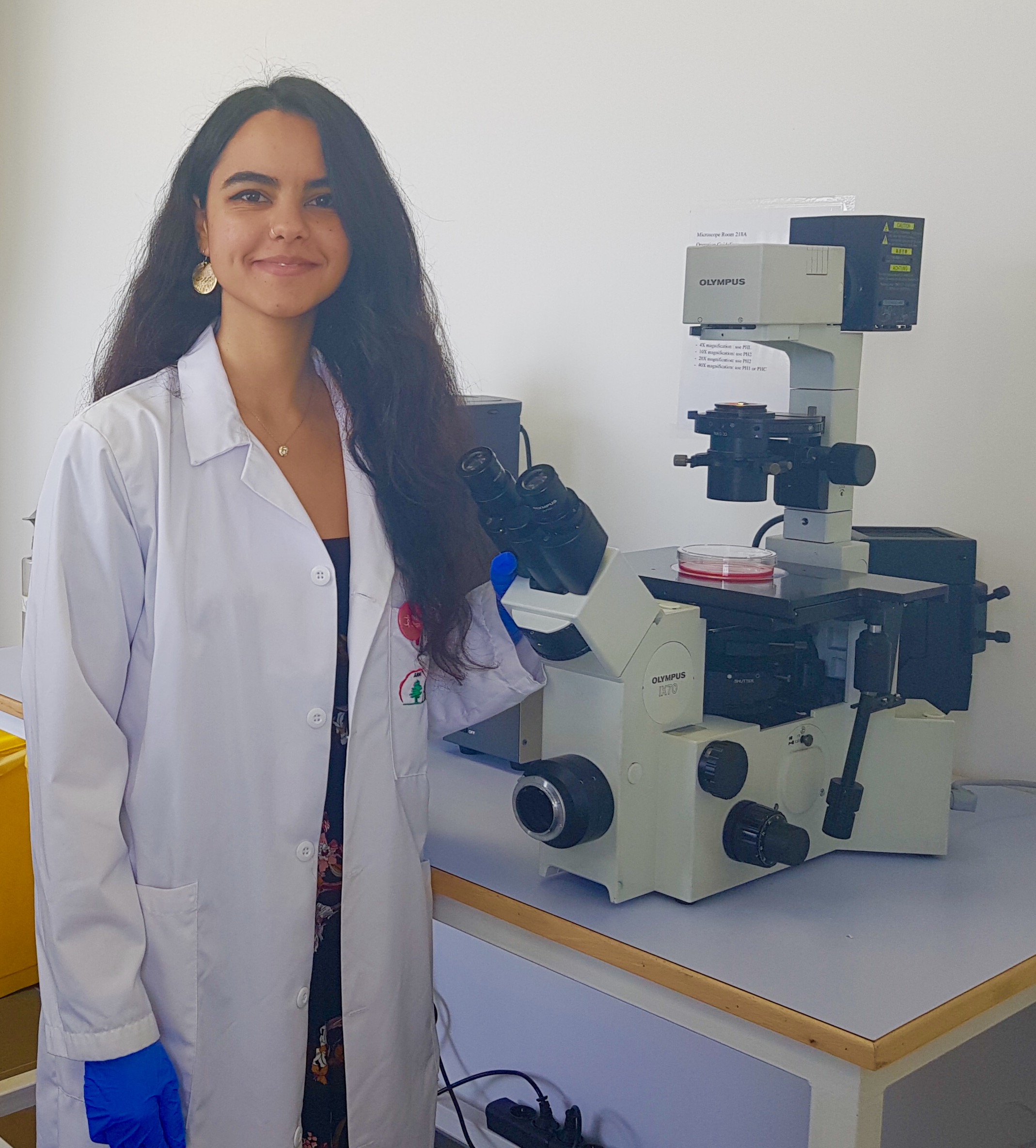 She is currently working on her Ph.D. thesis project entitled "microRNAs Dysregulated in Early Onset Breast Cancer in Lebanon and their Association with Loss of Morphogenesis of Breast Epithelium in a 3D Culture Model" and will be traveling to Purdue University in Indiana (May-August 2018), to pursue a collaborative three-months research and training (including the gradient-on-a-chip technology). The collaborative project will address: "Harnessing miRNAs to prevent early breast cancer onset in Lebanese women", which was just selected for funding by CTSI Global Health Pilot Grant Competition (to fund our research) and a generous Fulbright Alumni Development Grant (as a travel Fellowship).
How has the biology department influenced your career?
Before AUC, I have always had a fervent interest in perusing a medical degree, but after being part of the biology program at AUC that fosters an incredible research environment, I discovered my love of research and academia. After taking an elective oncology course at the Pediatric Cancer Hospital, 57357, I knew that a career in cancer research was my calling. AUC nourished my passion for research, and I am very grateful for that. Not all institutions encourage their undergraduate students to engage in basic science research like AUC does. For many reasons, I am appreciative of AUC's biology program that helped me delve deep into the world of science and, of course, research.
Attending many educational institutions across the world, I am forever grateful for AUC for igniting my love of research and sense of community engagement. At the AUC biology department, we were all like a family, and what I remember the most, is the cooperative spirit that the professors and all the staff encouraged amongst us all. Everyone's success felt like our own! Thank you AUC and everyone at the Biology Department!
More about Nataly
Nataly started her own initiative for breast cancer survivors in Lebanon called "Pink Steps". Pink Steps aims to promote physical fitness and a healthy lifestyle in breast cancer survivors in Lebanon.  Pink Steps was selected by a generous grant (Fulbright Alumni Community Action Grant) funded by AMIDEAST and the United States Department of State Bureau of Education and Cultural Affairs. Read more
Scientific Publications
Book Chapter: The volume is currently being published within Springer's series Advances in Experimental Medicine and Biology. Title: "Cross-roads to drug resistance and metastasis in breast cancer: miRNAs regulatory function and biomarker capability" (In Press)
Authors: Naser AL Deen Nataly, Farah Nassar, Nasr Rihab, Talhouk Rabih
Manuscript: Title: "Anti-cancer and Anti-inflammatory Activity of the Sea Cucumber Holothuria polii Aqueous Extract" (In press)
Authors: Kareh Mike, Nahas Rana, Al-Araj Lamis, Al-Ghadban Sarah, Naser AL Deen Nataly, Saliba Najat, El-Sabban Marwan, Talhouk Rabih
Read more alumni success stories