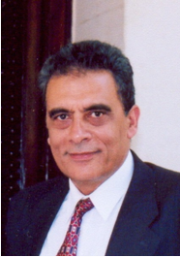 Safwan
Khedr
Position
Professor and former Chair
Department
Department of Construction
Profile
Brief Biography
Safwan Khedr is a professor of construction engineering at The American University in Cairo (AUC). His area of specialty is geotechnical and materials engineering, with an emphasis on highway applications. Khedr was appointed to the construction engineering unit in 1989 and led the effort to establish the program at AUC. He is a professional engineer registered in the United States and is registered as a professional engineering consultant in Egypt.
Prior to joining AUC, Khedr taught at Kansas University and helped establish the civil engineering department at Qatar University. He also held engineering consultations in the United States, Egypt and other parts of the world. He participated in building the Assalam Cable Stayed Bridge across the Suez Canal at Qantara by establishing the quality system and materials engineering for the eastern approach of the bridge. He is a member of several national committees on setting codes of practices for construction in Egypt. He is a participating member of the American Transportation Research Board.
Khedr holds a BSc from Cairo University and earned an MS and a PhD from Ohio State University.
Safwan Khedr is the author of numerous publications in refereed journals and conferences. His recent publications reflect results of research efforts at AUC where he established, with colleagues in the department, a center of excellence in the area of construction materials which attracted many research projects, some of which are externally sponsored.

Abdel-Mooty, M., Khedr, S. and Mahfouz, T., Evaluation of lime mortars for repair of historic buildings, STREMA 2009 Eleventh International Conference on Structural Repairs and Maintenance of Heritage Architecture, 2009, Estonia.
Khedr, Safwan and Breakah, Tamer, Rutting Parameters for Asphalt Concrete for Different Aggregate Structures, International Journal of Pavement Engineering, 2009.
Breakah, T., Khedr, S. and Bayomy, F., Using Film Thickness to Substitute VMA Criteria for Egyptian Hot Mix Asphalt, MAIREPAV 6, The Sixth International Conference and Rehabilitation of Pavements and Technological Control, Toronto, Italy, 2009.
Research Interest
Highway pavements, structures, and pavement management systems.
Materials; special concretes, alternate reinforcing systems for concrete, asphalts, asphalt concrete performance, subgrade soil performance, earthen construction materials, innovative, reproducible organic binder to replace energy-intensive deplete-able construction materials.
Quality management in construction.
Note: Most of these fields of research emphasize the experimental, empirical and statistical aspects and carry direct or indirect practical applications to engineering practices.