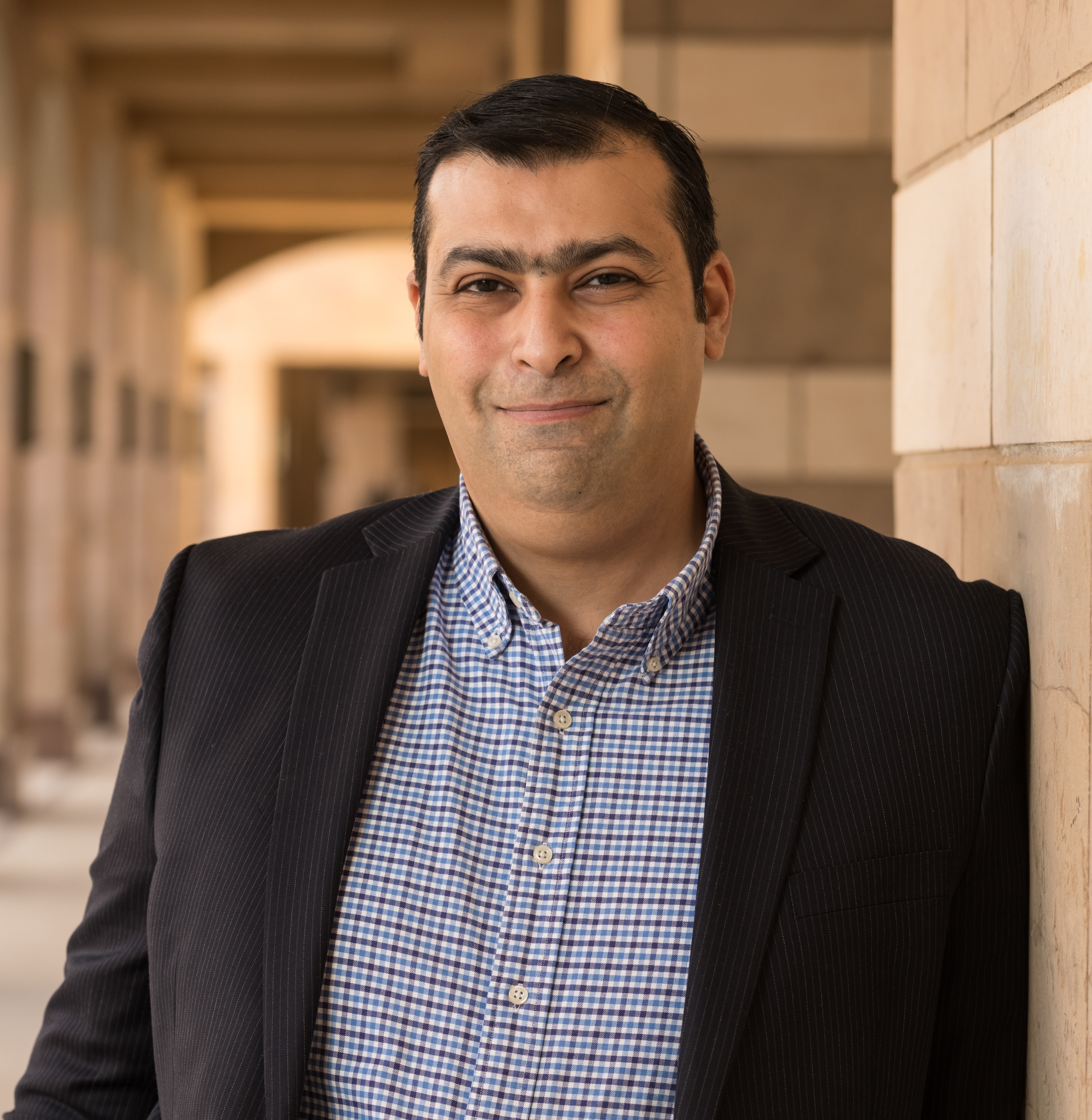 Mohamed
Serry
Position
Associate Professor
Department
Department of Mechanical Engineering
Profile
Brief Biography
Mohamed Serry is currently an Associate Professor in the Department of Mechanical Engineering at The American University in Cairo (AUC), and Leader of the Microfabrication and Advanced Sensor Technologies Research Group at Youssef Jameel Science and Technology Research Center (YJSTRC). He conducts research on micro and nano-fabrication and engineering and advanced materials for sensor applications.
Serry holds a Ph.D. in Mechanical and Industrial Engineering (University of Toronto), an M.Sc. in Mechanical Engineering (University of Alberta), and a B.Sc. in Mechanical Design and Production Engineering (Ain Shams University), as well a string of research grants, honors, and awards. In addition to his academic credentials, he has been published in forty-eight peer-reviewed journals and conferences, one book chapter, and has four granted and pending United States patents.
Serry has developed an established track record for his research in advanced nanostructures for sensor applications, MEMS microfabrication technology, graphene synthesis and integration within microsystems, the fundamental study of transport phenomena in graphene/semiconductor junctions for sensor applications, the application of graphene composites for structural and energy conversion applications, the modeling of interface phenomena in graphene composite structures, the design and fabrication of physical sensors (MEMS gyroscope/ accelerometers) and biochemical sensors, the use of novel substrates to improve the effectiveness of chemical, gas, bio, mechanical, and physical sensors, and the development of micro-robotic structures for advanced cancer detection and biological cell manipulation.
Patents

Serry, M., Sharaf, A. H., Shaban, M. Gamal, A. "Novel Nanostructured Membrane Separators and Uses Thereof," US Patent No. 20,160,129,403, 2016
Abdel Aziz, A.K., Sharaf, A.H., Serry, M., and Sedky, S. "MEMS Mass-Spring-Damper Systems Using an Out-of-Plane Suspension Scheme," US Patent 20,150,285,633, 2015
Serry, M., Rubin, A., Refaat, M., and Sedky, S. "Silicon Germanium Mask for Deep Silicon Etching," US Patent No. US 8791021 B2, 2014
Sallam, M., Solliman, E., Serry, M., and Sedky, S. "Dielectric Resonator Antenna," US Provisional, Application No. US2014/063533, 2014

Book Chapter

Mohamed Serry, "Graphene Based Physical and Chemical Sensors. Next Generation Sensors and Systems," Edited by Mukhopadhyay; Subhas, 09/2015: Chapter 1: pp. 1-22; Springer, ISBN: 978-3-319-21670-6

Refereed Journal Papers (last 5 years)

Elmarakbi, A., Azoti, W., and Serry, M. (2017) "Multiscale Modelling of Hybrid Glass Fibers Reinforced Graphene Platelets Polyamide PA6 Matrix Composites for Crashworthiness Applications," Applied Materials Today, Vol. 6, pp. 1-8
Serry, M. and Sakr, M. (2016) "Study of Flexoelectricity in Graphene Composite Structures," MRS Advances, Vol. 1, Issue 39, pp. 2723-2729
Serry, M. and Sakr, M. (2016) "Graphene-Metal-Semiconductor Composite Structure for Multi-Modal Energy Conversion," Sensors and Actuators A: Physical, Vol. 245, pp 169–179
Nunez-Sanchez, S., Lopez-Garcia, M., Murshidy, M., Abdel-Hady, A. G., Serry, M., Adawi, A. M., Rarity, J.G., Oulton, R., and Barnes, W. (2016) "Excitonic Optical Tamm States: a step towards a full molecular-dielectric photonic integration," ACS Photonics, 3 (5), 743-748
Khalil, I., Abass, H., Shoukry, M., Klingner, A., El-Nashar, R., Serry, M., and Misra, S. (2016) "Robust and Optimal Control of Magnetic Microparticles Inside Micro Uidic Channels with Time-Varying Flow Rates," International Journal of Advanced Robotic Systems, Vol. 13, No. 123, pp. 1–13
Serry, M., Sharaf A., Emira, A., Abdul-Wahed, A., and Gamal, A. (2015) "Nanostructured Graphene− Schottky Junction Low−Bias Radiation Sensors," Sensors and Actuators A: Physical, Vol. 232, pp. 329-340
Sallam, M., Serry, M., Sedky, S., Shamim, A., De Raedt, W., Vandenbosch, G., and Soliman, E. (2015) "Micromachined On Chip Dielectric Resonator Antenna Operating at 60 GHz," IEEE Transactions on Antennas and Propagation, Vol. 63, No. 8, pp. 3410-3416
Shaban, M., Gamal, A., and Serry, M. (2014) "A New Sensor for Heavy Metals Detection in Aqueous Media," IEEE Sensors Journal, Vol. 14, No. 2, pp. 436-441
Lopez-Garcia, M., Ho, Y.-L.D., Taverne, M.P.C., Chen, L.-F., Murshidy, M. M., Edwards, A. P., Serry, M., Adawi, A. M., Rarity, J.G., and Oulton, R. (2014) "Efficient Out-Coupling and Beaming of Tamm Optical States via Surface Plasmon Polariton Excitation," Applied Physics Letters, Vol. 104, No. 23, pp. 23116-1
Sharaf, A., Gamal, A., and Serry, M. (2014) "New Nanostructured Schottky Diode Gamma-Ray Radiation Sensor," Procedia Engineering, Vol. 87, pp. 1184-1189
Serry, M., Gamal, A., Shaban, M., and Sharaf, A. (2013) "High Sensitivity Optochemical and Electrochemical Metal Ion Sensor," Micro & Nano Letters, Vol. 8, No. 11, pp. 775 – 778
KhairAllah, K., Ramsis, I., Serry, M., Swillam, M., and Sedky, S. (2013) "Spatial Beam Splitting for Fully Integrated MEMS Interferometer," Optics Communications, Vol. 295, pp. 249–256
Serry, M., Rubin, A., Ibrahim, M., and Sedky, S. (2013) "Silicon Germanium as a Novel Mask for Deep Reactive Ion Etching of Silicon," Journal of Microelectromechanical Systems (JMEMS), Vol. 22, No. 5, pp. 1081-1088

Refereed Conference Papers (Last 5 years)

Sallam, M., Serry, M., Shamim, A., Sedky, S., and Soliman, E. "Novel Micromachined On-Chip 10-Elements Wire-Grid Array Operating at 60 GHz," The 11th European Conference on Antennas and Propagation (EuCAP 2017), Paris, France, 19-24 March 2017
Helaly, H., Serry, M., and Soliman, E. "Surface-Bulk Micromachined On-Chip Monopole Antenna for 77 GHz Automotive Radar Applications," The 11th European Conference on Antennas and Propagation (EuCAP 2017), Paris, France, 19-24 March 2017
Serry, M. and Sakr, M. "Modeling and Experimental Characterization of Flexible Graphene Composite Strain Sensors," Proceedings of the 2016 IEEE Sensors Conference, Orlando, Florida, USA, October 30-November 2, 2016
Sallam, M., Serry, M., Shamim, A., Sedky, S., and Soliman, E. A. "On Chip Micromachined Dipole Antenna with Parasitic Radiator for mm-Wave Wireless Systems," Proceedings of the 2016 IEEE Middle East Conference on Antennas and Propagation (MECAP'16), Beirut, Lebanon, September 20-22, 2016
Khalil, I., Tabak, A., Hosney, A., Klingner, A., Shalaby, M., Abdel-Kader, R. M., Serry, M. and Sitti, M. "Targeting of Cell Mockups using Sperm-Shaped Microrobots In Vitro," Proceedings of the 6th IEEE RAS/EMBS International Conference on Biomedical Robotics and Biomechatronics (BioRob2016), Singapore, June 26-29, 2016
Sakr, M., and Serry, M. "Non-Enzymatic Graphene-Based Biosensors for Continuous Glucose Monitoring," Proceedings IEEE Sensors, Busan, South Korea, November 2015
Abdul-Wahed, A., and Serry, M. "Graphene-Based Nanostructures for Advanced Sensor Applications," TechConnect World Conference and Expo, Washington D.C., USA, June 14-17, 2015
Lopez-Garcia, M., Ho, Y.-L.D., Taverne, M.P.C., Chen, L.-F. , Murshidy, M. M., Edwards, A. P., Serry, M., Adawi, A. M., Rarity J.G., and Oulton, R. "Heavily Dye-Doped Polymers Allow Tamm Optical States Between a Periodic Structure and an Excitonic Organic Layer," 6th International Conference on Metamaterials, Photonic Crystals and Plasmonics (META15), New York, USA, August 4-7, 2015
Sallam, M., Serry, M., Sedky, S., Shamim, A., Raedt, W. D., Vandenbosch, G., and Soliman, E. "High Efficiency On-Chip Dielectric Resonator Antenna Using Micromachining Technology," 2015 IEEE International Symposium on Antennas and Propagation and North American Radio Science Meeting (APS/URSI), Vancouver, Canada, July 19-25, 2015
Ashour, M., Saqr, M., AbdelKareem, M., Sharaf, A., Gamal, A., and Serry, M. "Schottky Diode Graphene Based Sensors," Proceedings of the 8th International Conference on Sensor Technology (ICST'14), Liverpool, UK, September 2-5, 2014
Sharaf, A., Gamal, A., and Serry, M. "New Nanostructured Schottky Diode Gamma-Ray Radiation Sensor," EUROSENSORS XXVIII, Brescia, Italy, September 7-10, 2014
Sharaf, A., Gamal, A., and Serry, M. "High Performance NEMS Ultrahigh Sensitive Radiation Sensor Based on Platinum Nanorods Capacitor," IEEE Sensors 2013, Baltimore, USA, November 3-6, 2013
Serry, M., Gamal, A., Kader, A.A., Sharaf, A., and Shaban, M. "Nanostructured Membrane Separators for Electro-Chemical Detection of Heavy Metals," The 17th International Conference on Solid State Sensors, Actuators and Microsystems (Transducers' 2013), Barcelona, Spain, June 16-21, 2013
Abdel-Aziz, A., Tawfik, H., Sharaf, A., Elshurafa, A., Serry, M. and Sedky, S. "A New Vertical Suspension Inertial Grade Gyroscope," The 17th International Conference on Solid State Sensors, Actuators and Microsystems (Transducers' 2013), Barcelona, Spain, June 16-21, 2013
KhairAllah, K., Ramsis, I., Serry, M., Swillam, M. and Sedky, S. "Spatial Beam Splitting for Fully Integrated MEMS Interferometer," SPIE Photonics West, The Moscone Center, San Francisco, California, USA, February 2-7 2013
Ashour, M., Sharaf, A., and Serry, M. "Wireless Passive Surface Acoustic-Based MEMS Glucose Sensor For Real Time Measurement," The 1st IEEE Engineering in Medicine and Biology Society (EMBS) International Students Conference, Cairo University, Egypt, October 8-10, 2013