Programs
Programs
The Department of Electronics and Communications Engineering offers a Bachelor of Science in electronics and communications engineering.
Students are accepted into the electronics and communications engineering program either upon admission to AUC or after successful completion of criteria courses. High school students with a mathematics/science background are accepted depending on their high school grades and the availability of places in the program. Undeclared students and/or students who wish to change their major to ECNG may also be accepted into the program when they finish criteria courses set by the department. Admission to the program is supervised by the department and depends on available places and the student's performance record in the criteria courses. Transfer students are also accepted into the program based on available places, the student's performance at his/her current institution and high school grades.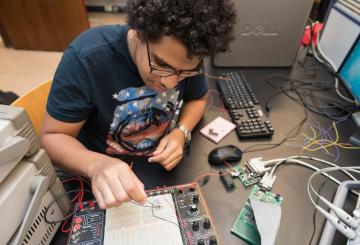 The ECNG Graduate Program started in Fall 2010 and over the past 8 years, we have graduated 50 ECNG students. Our goal is to satisfy the different career advancement needs of ECNG students in Egypt and abroad
ECNG Alumni students joined International companies and International Universities for postgraduates; such as the University of Illinois - Urbana Champaign, Carnegie Mellon University, Georgia Institute of Technology, McGill University, University of British Columbia, and the University of Waterloo.
Our graduate programs offer many opportunities for well-qualified students:
Fellowships

Scholarships

Teaching Assistantships

Support Grants

Work-Study

Financial Aid